Should there be created a new dimension value within a dimension level, the following should be considered:
Dimensions level (Department, Project, etc.).
Value to be exported to the ERP system (accounting system)
Text to be displayed for the employee
Basically, you can look at an existing dimension value, and create the new dimension value after the same principles.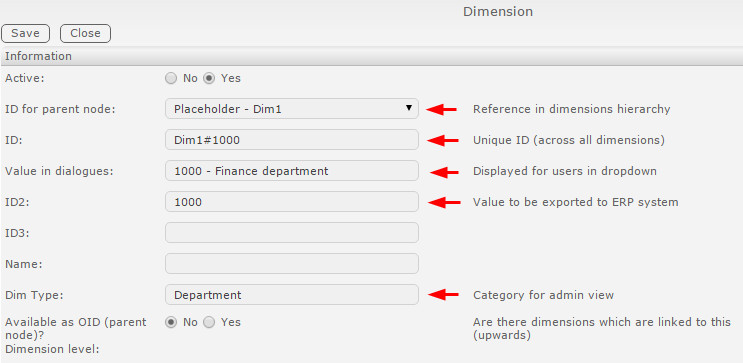 The following fields are needed:
ID for parent node.
This is called dimension-level (parent node). If its department information is at dimension level 1, and a new department must be created, then select Place Holder - Dim 1
ID:
There must always be given an internal Acubiz ID. This ID must be unique across all dimension values and levels.
Value in dialogues:
This is what the employee sees when they should be at this dimensional level (eg. Department)
ID2:
This is the exact value you want to be transferred to the ERP system (accounting system) so the value are recognized as an (eg.) Department.
ID3 og Name:
Often not used, and can be left blank - unless AcubizEMS are using them based on the base-configuration (Look if necessary on an already created dimension for template)
Dimtype:
Here you can specify a name for the dimension-level that the dimension value belongs to (Eg. Department)
Avalilable as OID (parent node)
This should only be used if AcubizEMS are configured for dimension dependencies. Must select Yes if the current dimension value must be available as a dependency dimension (Parent node).