In AcubizEMS the CAPTURE app may be used in two different ways.
CAPTURE direct
One option is CAPTURE direct, which means that you take pictures of your receipts and enter the correct information and sends the expenses directly for approval. You do not need to make further processing inside AcubizEMS.
This applies to both cash expenses and (new) credit card transactions.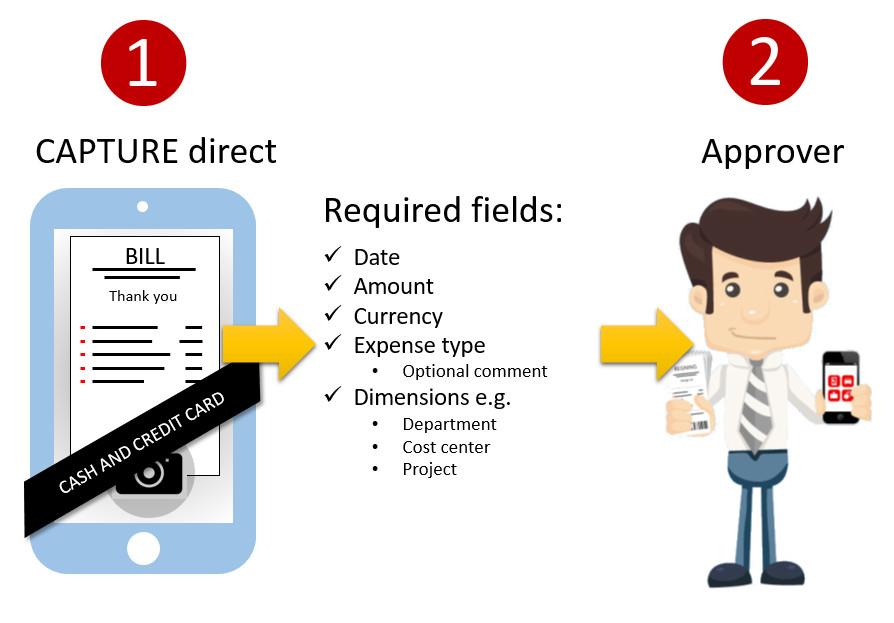 If CAPTURE direct are used, there are the following comments:
CAPTURE direct is a premium subscription to CAPTURE.
The company's rules on proper accounting need to be performed directly in the CAPTURE app from the options that are available in the app.
Companies with a customization to their rules for accounting and dimensioning, that are not within AcubizEMS standard configuration, can not use CAPTURE direct.
CAPTURE direct can be enabled/disabled per. employee
CAPTURE direct can be configured to handle [Only cash expenses] or [only credit card] or [cash expenses and credit cards]
Cash expenses will be forwarded for approval immediately.
After you use your credit card and take picture of your receipts there will usually go about 1-2 days before it is sent for approval.
CAPTURE:
The second option is the 'normal' CAPTURE where you take pictures of receipts and only enter the date and amount, and then make further processing inside AcubizEMS to prepare your expenses for approval.
This method is often used for companies that want's all related expenses gathered in one or more Expense Reports, for better overview of both employee and the approver (and the Finance Department)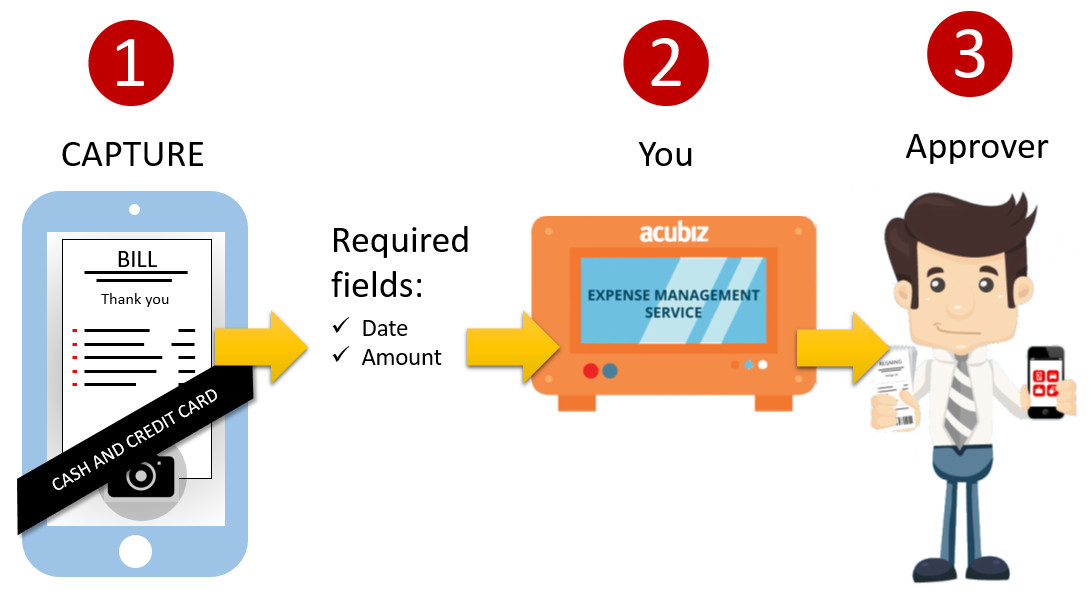 General comments about the CAPTURE and CAPTURE direct apps, in conjunction with credit card transactions you must be aware of the following:
Receipts and credit card transactions are matched via amount, date and currency.
The amount is the top priority for proper match.
There can be matched on transactions within an amount difference of +/- 1% of the total amount. Ex. 99, - will match transactions of 100,- - but 99,- will not match transactions at 101 kr.
Multiple transactions with the same amount will be matched by date
Multiple transactions with the same amount and date will be matched on the currency.
If there are multiple transactions where both the amount, date and currency are equal, AcubizEMS match the first transaction that meets the match criterias.
If there are no match on the amount, the employee has to go into AcubizEMS and match manually (Eg. if you enter the wrong amount in the app).
Contact Acubiz on which option that are the best for your business.