In the event that Acubiz One is not connected to the Internet, you can still work on Acubiz One, but no transfer is made from your phone to Acubiz's servers. In such cases, the following occurs:
The attachment is in the UNTRANSFERRED and is awaiting transfer
The attachment is ONLY on your local phone and is therefore not transferred to Acubiz
When your phone has regained internet connection, attachments in the outbox will not be sent automatically and this must therefore be done manually.
Below is an example of a transaction that is in the outbox, which must therefore be sent again.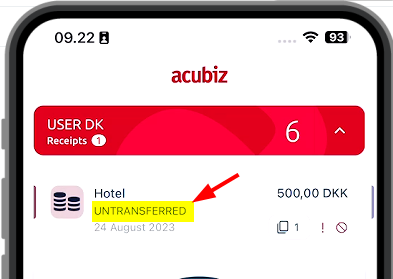 Click on the red bar to open the overview.
Here there are 3 areas:
Unprocessed
Area with the transactions you need to complete.
Receipts
Area with the receipts sent to Acubiz and awaiting match with card transaction
Untransferred
Area with the transactions that have been attempted to be sent without an internet connection.
Then select UNTRANSFERRED to see the attachments that have not been sent from your phone.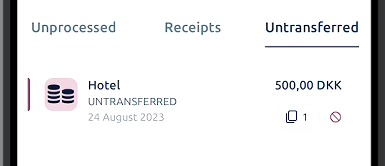 At the bottom, you can choose whether you want to delete all attachments or clear all attachments from the UNTRANSFERRED area.