Company Policy Manager is part of Acubiz. Get cut down on time consumption - regardless of whether it is employees, approvers or the Finance department and here CPM comes into its own for the finance department and its time consumption in Acubiz.
The CPM (Company Policy Manager) module is an acquisition option for Acubiz. If CPM is not purchased, this option will not be present. Contact Acubiz for more information.
CPM is based on the premise that nothing must be approved in FINANCE. Everything is settled by the employees and approved by the manager and from there the transactions are sent directly for bookkeeping.
When this is set up in Acubiz, the terms and conditions for when transactions must be approved in FINANS, based on the following criteria (in combination)
General spot check

Set a general %-value for how many transactions are to be controlled in FINANCE (eg 10%, 25% or 50%) seen over one month. (% Rate is optional)

Transactions on a particular account (can be set up on all Acubiz expense accounts)


All transactions on this account no matter the amount
Transactions over a certain amount on this account
All transactions in the account, used in specific countries

Transactions from a particular person
Control strength and prioritization
The different CPM policies have different priorities / strengths. Some controls are stronger than others and thus undermine the underlying controls. Below ranked by strength:
Account Control (Amount / Country)
Employee Control (spotcheck)
Spotcheck in general
This means that if there is 25% general spotcheck, a rule on a selected account will be stronger than the spotcheck. Likewise, a the specific account control will be stronger than spotcheck on an employee and spotcheck in general.
Spotcheck:
The model shows that 50% of transactions comes for control in FINANCE in Acubiz before they come to posting.

Specific account to be checked in Finance.
This is the model shown that all transactions on the "Hotel" expense account, always "land" for checking in Finance, before posting. This setting has a higher priority than the overall random check.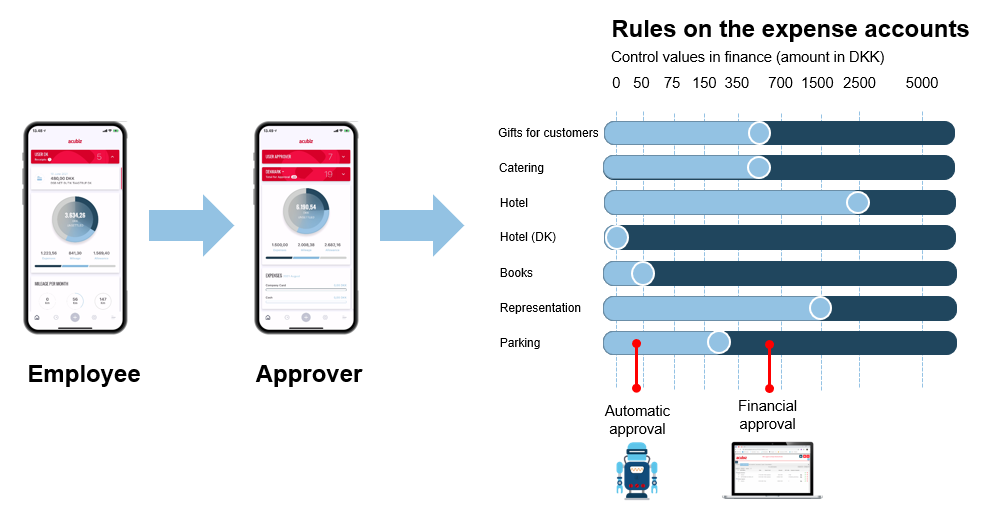 How to setup control on a specific account >>
Specific employee to be checked in Finance:
An example of when an employee check can be initiated could be if one (or more) employees often make incorrect accounts.

A single employee can be set up to always be checked in Finance - regardless of the general random checks or the checks set up in the various accounts.