Change configuration and settings
Go to Acubiz settings and then App configuration.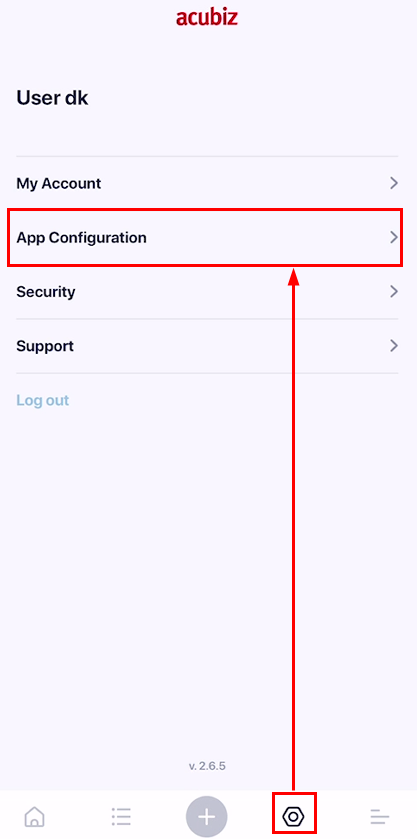 This allows you to set the configuration you want based on the options offered.
Data transfer:

This setting allows you to go directly to the settings of your phone, including permissions and languages.

If you enable this feature, your trades will not be transferred automatically. Everything is placed in an outbox and you choose when to send data to Acubiz. The information is ONLY in your phone until you manually transfer. This can be an advantage when traveling abroad with high data rates, so you only send when you are on eg Wi-fi or similar.
Automatic processes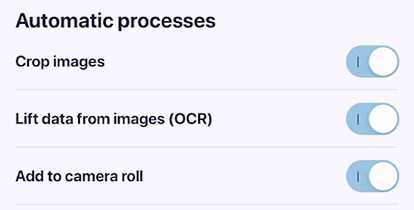 Crop photos:
Function that ensures that the image of your receipt only contains the receipt itself and nothing else.
Lift data from images
Function that reads the information on the receipt and uses it so that it does not have to be entered manually. Note that it must always be checked that the data is correct. Try to lift the following:
Add to camera roll
This feature ensures that a copy of your receipt is placed in your camera roll. An Acubiz folder is created so that these are kept separate from your personal photos.
Transaction settings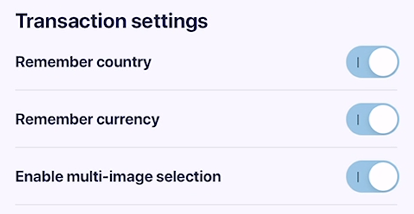 Remember country
The feature ensures that the most recent country selection is remembered for the next time you take pictures of receipts.
Remember Currency
Function to remember recently used currency. This feature is overridden by the feature that automatically reads currency. If the currency is not read directly from the receipt, the latest one is used.
Enable multi-image selection
Function so that multiple images can be added to the same transaction from your camera roll. Multiple images can be selected at once.
Dashboard configuration:
Widget settings