The basic settings are set from Acubiz's page, based on the most commonly used setup. You can change it as needed.
(1) Select menu (or swipe in from left side of screen)

(2) Click on the settings (gear) at the bottom of the menu

(3) Make the changes you want.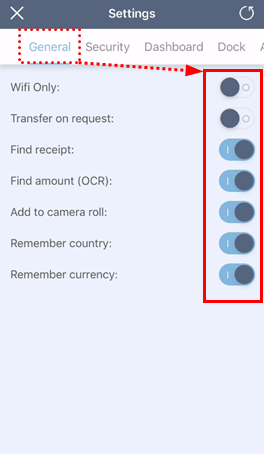 In the above options there are "sliders" that indicate whether a function is on or off
Turned on: Slider is on the right 
Turned off: Slider is on the left 
The options are as follows:
Only via WiFi
Enable if you only want to transfer data if you are on WiFi. The mobile data connection is thus not used.
Transfer manually
Instead of transferring each transaction, you can put them in "queue" and make a manual transfer.
Find receipt
Upon activation, Acubiz One tries to crop your image so that only the receipt is displayed - all outside is cropped away.
Find amount
Via built-in OCR (text recognition), Acubiz One tries to find the total amount of the receipt. Light conditions, angles and sharpness are paramount for the greatest recognition's success.
Add to camera roll
For each image you take of a receipt, put a copy into your phone's camera roll in a folder called "Acubiz". Therefore, your receipts will not be mixed with your normal images and you will have a backup of your receipts.
Remember country
Upon activation, the last selected country will be remembered at the next transaction.
Remember currency
Upon activation, the last used currency will be remembered at the next transaction.
Press X to close the settings.