During your travels and your use of your credit card, it may often be necessary to withdraw cash on your credit card. There may be places in the world that does not accept credit cards and accept payment with cash only.
In AcubizEMS you must be aware that cash withdrawals on your credit cards, will be considered your money to own. This means that if you withdraw cash and settles the credit card transaction with the cash widthdrawal then the amount will be withdrawn in your wages - however this only happens when you make your expense settlement (when you returned from the trip) and sends it for approval to your manager.
Account for your cash withdrawals:
Suppose you widthdraws DKK 1,000.- on your credit card in Denmark. You use the cash as follows in your journey in Denmark:
688,00 DKK on Taxi
36,00 DKK on a sandwitch
28,00 DKK on a cop of coffee
55,00 DKK on books and newspapers
In total you have used 807.00 DKK, and thus 193.00 DKK are in your pocket. Remember to take pictures of your receipts with Acubiz CAPTURE and make cash expenses.
Once you create your expense report, you should then take your credit card transaction with your cash withdrawals and your cash expenses and put it into the same Expense Report as follows: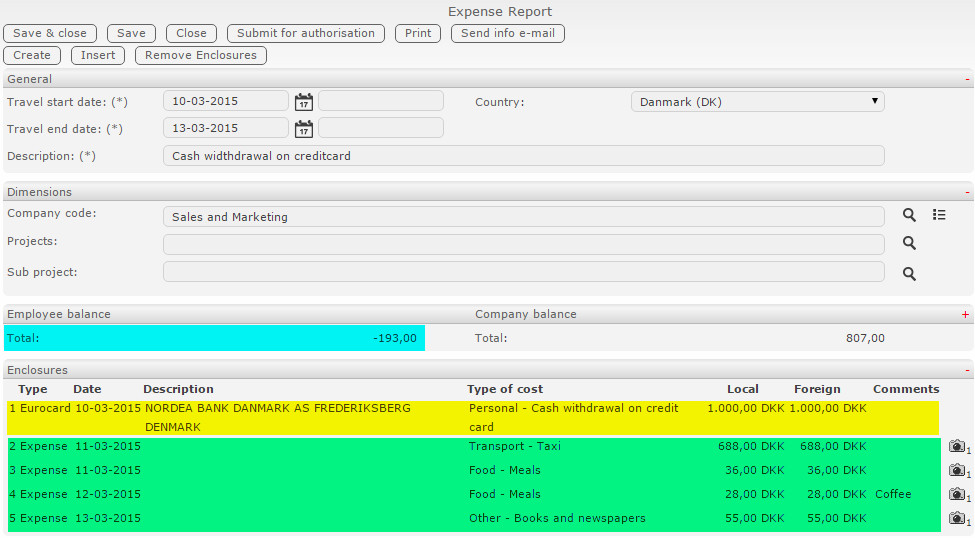 Cyan area:
This states -193.00 and means that the total amount is a minus, and you will be withdrawn 193.00 in salary when the Expense Report is processed and sent for approval.
Yellow area:
The yellow area shows the cash widthdrawal, which is actually the employee's money and therefore being widthdrawn in salary by 1,000.00 DKK.
Green area:
The green area shows the cash expenses you have made, and these are balanced against the cash widthdrawal and shows that you should have 807.00 DKK paid in salary.
In total it provides as follows:
Salary addiction: 807.00 DKK
Salary deductions: -1000.00 DKK
Total salary: -193.00 DKK in salary deduction