You can always find your own transactions in AcubizEMS. First, you define what you want to find and then fill in the search form so you make the correct filtering.
Make a search on cash expenses
Tap the search icon
The search form opens:

Below is an actual example where we will find all the cash expenses you (as an employee) made in a period. First select the type you want to find: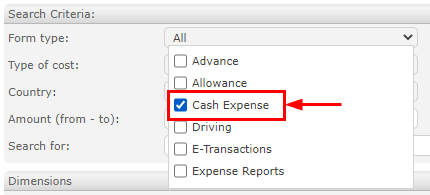 Then the selected date range:
When all is selected, the search is done by pressing Search at the top of the form and your search results will appear: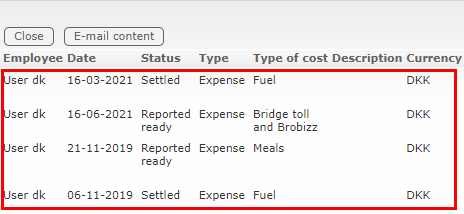 The possibilities for very specific searches are many. There may often be situations where there are defined to many filtering criterias that does not give any results. So you should be extra aware that your filtering choices not excludes results.
Filtering options:
Formtype
Search on exactly the type to be found.
Includes: Advances, Allowance, cash expenses, Mileage, E-transactions, Expense reports and requisitions
Searches can be made single or multiple by checking the boxes in the list of the types is required in the search results.
Status
Declined
Expenses declined by the approver. Located in the employee unprocessed area.
Current
Expenses not sent to the approver. Located in the employee unprocessed area.
Reported ready
Expenses sent for approval and not approved yet.
Approved
Expenses approved but not settled.
Settled
Expenses are settled and ready for export (Salary Etc.). You can search on several at once by ticking the boxes on the list.
Expense type
The options in this list represents the company's accounts, and the types of expenses provided to employees.
Employee
Options are the created users, depends on the rights of the active user.
Country
Showing expenses related to expenses / travel in the country.
Date to- and from
From date:
Should be applied for e.g. from 01-06-2021 to today, only fill in the date in the "from date field".
Until date:
If you want to search for everything until (eg) 01-08-2021, you only need to enter the date for the field.
Period search.
Then enter the start and end dates in both fields.
From date: 01-06-2021
To date: 01-08-2021
Amount from and to:
From amount:
If the search should be from 500 DKK and more, only the from field needed.
To amount:
Search on everything under (ex.) 500 DKK, only amount in the to field.
Interval search:
Enter amounts in both fields
Currency
List of supported and installed currencies. Select your desired currency.
Search for
This field searches all text across the filtering options. Can be used for specific searches, such as finding all expenses related to a company, for example: COMPANYNAME.
Dimensionsearch
Individually from company to company. You can search by expenses related to a dimension.
Note: To extensive filtering may show no search results.