Acubiz Mail-In is an easy and effective way to get files and/or images into Acubiz EMS received by e-mail.
Often you will receive invoices and other receipts by mail as attachments, and with Mail-In these can be associated with the individual expenses in AcubizEMS.
In this example, we assume that you are sending from your private e-mail address that is NOT registered in AcubizEMS. AcubizEMS does not recognize your email address.
Receive receipt
You receive your receipt in an e-mail as an attachment.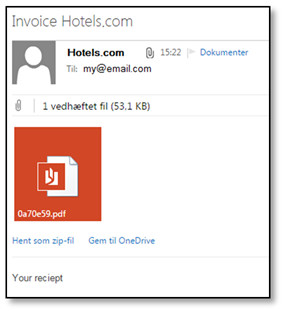 Press Forward email ...
Send receipt:
By forwarding, you must specify your Acubiz Mail-IN e-mail address, and enter your initials in the subject field.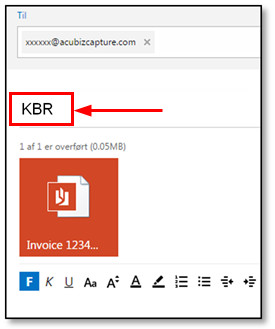 Process your receipt:
In AcubizEMS you can proceed with the transaction and receipt - as usual.