In cases where a bank cannot send card transactions to Acubiz for automatic loading, manual upload is available instead. The files uploaded to Acubiz are usually exported from webbank in CSV, Excel or XML format.
This is a purchase add-on product - contact Acubiz for more information.
To upload transaction files:
Go to FINANCE => DOCUMENTS => E-TRANSAKTIONS => ALL BY STATUS

Then use the upload function UPLOAD TRANSACTIONS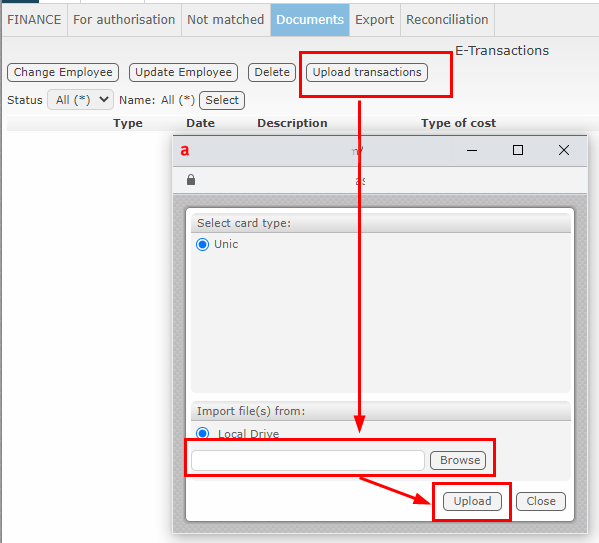 Select the bank file you want to upload. Send the file to Acubiz by pressing "Upload".
Function information
You can upload files at any time, but the transactions are currently being processed and imported. only once an hour between 06.30 and 11.30. Example: If a file is uploaded on Monday afternoon, the transactions will only be visible in Acubiz after 06.30 on Tuesday morning.
Please note:
The upload feature is based on the test files you have submitted, and it will only work with files that follow this structure. Do not modify the file content or formatting after the files are exported from your bank, as this may cause the data import to fail