Is your user profile in Acubiz EMS set up to have the secretary role, you can also work on behalf of others in Acubiz One.
It requires:
That the secretarial function is enabled in Acubiz EMS (contact Acubiz)
You have the secretary role in Acubiz EMS
Is assigned, as a secretary, to one or more other users of Acubiz EMS
That you use Acubiz One version 1.6 or later
Acubiz EMS upgraded to version R7.0 (release nov/dec 2018)
Once the above is configured on your user profile in Acubiz EMS, log into Acubiz One as yourself (normally).
Working as yourself
Below is the normal overview of Acubiz One when you make your own expenses: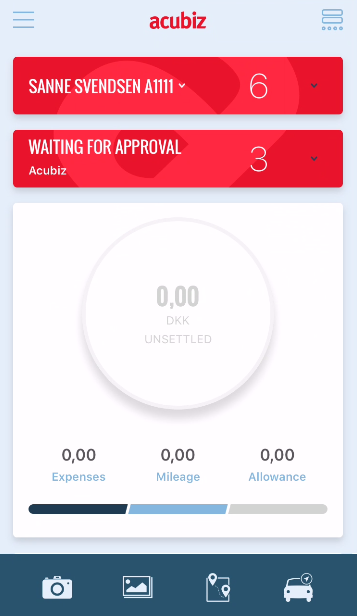 Switch to another user:
If you want to work on behalf of another user, click on your name to choose from the other users you are entitled to: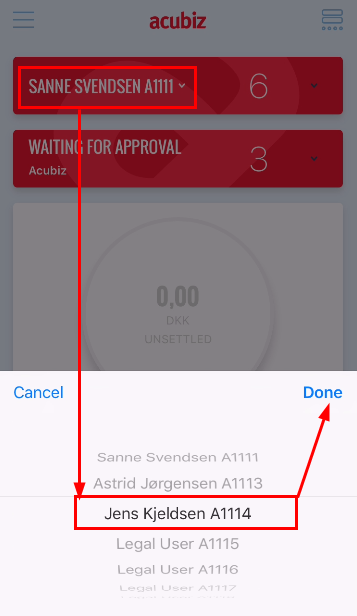 Then, the interface in Acubiz One changes from red to gray = works on behalf of another: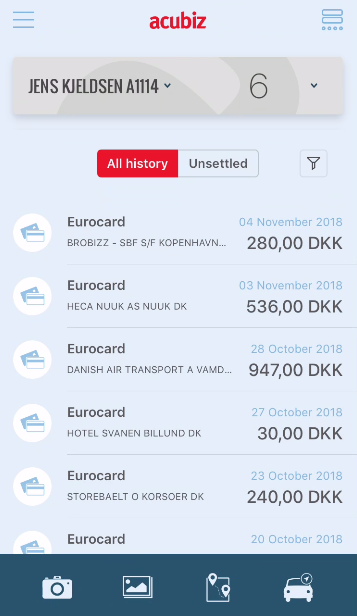 In this case you are now working on behalf of "Jens Kjeldsen" and all features are now with Jens Kjeldsen, as "Sender".
Note that you only view the user's transactions by default. You can configure having access to the normal dashboard-features in the dock-settings. See how to change the dashboard layout