The secretary function can be activated by the company's Acubiz administrator
If your user profile in Acubiz is set up to have the role of secretary, you can also work on behalf of others in Acubiz One.
It requires:
You have the secretary role in Acubiz
Is affiliated, as a secretary, with one or more other users of Acubiz
Once the above is configured on your Acubiz user profile, you just log into Acubiz One with your own credentials.
When you work on your own behalf:
Below is the normal overview in Acubiz One when you settle your own expenses: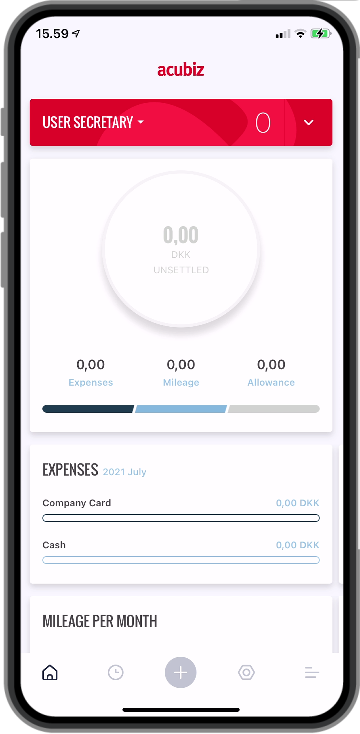 Switch to another user:
If you want to work on behalf of another user for whom you are secretary, click on your name to choose between the other users you are entitled to: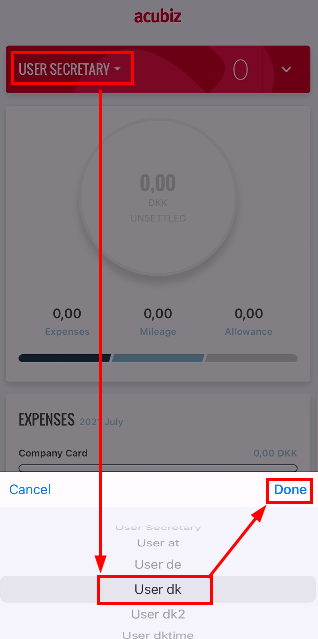 Then the interface in Acubiz One changes from red to gray, which means you are working on behalf of someone else: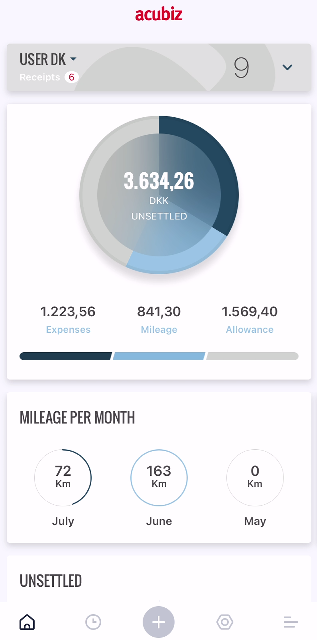 In this case, you are now working on behalf of "User DK" and all functions are now with User DK, as "Sender". All functions work according to the same method as if you were working on your personal behalf:
NOTE: You cannot use the PDF sharing feature for a user other than yourself.
You can configure to access the normal dashboard functions in the dock settings. See how to change the dashboard layout