Acubiz One offers various support options directly in the App. Go to settings

Select Support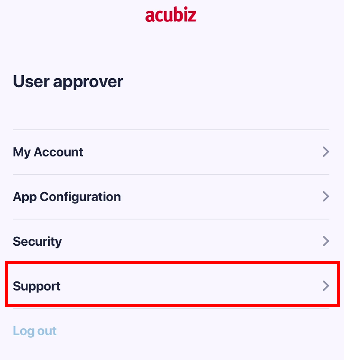 Below are the following options in connection with any. experience problems that you can remedy yourself or you need to contact your Acubiz administrator in your company.
Details for support
Specific information about your mobile device model and OS version and the installed Acubiz version. This is important information related to support.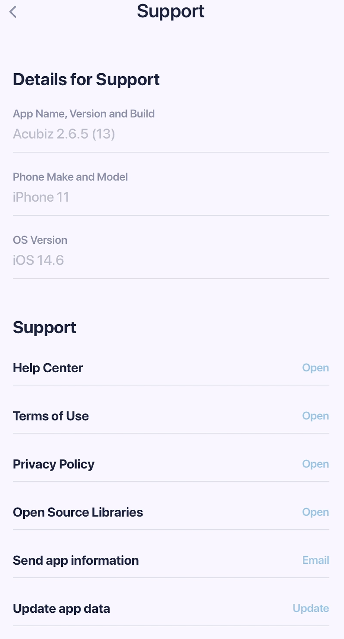 Help center
This is a direct access to the Acubiz online Help center with instructions and guides for the use of all functions in the app.
Clicking on the Help Center opens the information in a browser on your device
Terms of use
Link to Acubiz terms
Privacy Policy
Link to Acubiz Privacy Policy
Open Source Libraries
Shortcut to app settings in the phone
Send app information
In some cases, Acubiz Support may ask to receive technical information on the user's phone. This feature sends an email to Acubiz Support containing the technical information as well as setup parameters. No personal information is sent.
Update app data
If you find that Acubiz One is not 100% up to date with the company's data, you can choose to perform a full synchronization of data from Acubiz 'servers to the phone. This can often remedy any. periodic synchronization issues between phone and Acubiz servers.