Transactions not matched to an employee
In the menu NOT MATCHED (Finance) credit card transactions that are not matched to an employee are located. As a rule, the transactions can be automatically matched to a user, but in some cases a automatic match cannot be created, as the transactions are account related and not card related. This could be account transactions such as interest or account fees that are not user related.
Interest and/or account fee transactions should not be automatically matched to a user
In order for these transactions to be settled, they must be moved out to a user (of your choice) whom can make the settlement. The procedure is as follows:
Go To FINANCE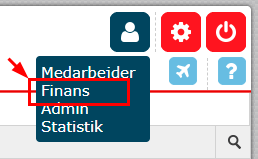 Go to NOT MATCHED

Move transactions to an employee:
Transactions that are not employee related are often identified by the following
Match key is not unique
In this example, the key is 00000000 and no automatic match should be made on it

No match key is provided
In this case, an automatic match cannot be made

Do like this:

Go to NOT MATCHED
Expand your credit card provider (press the plus sign)
Expand transactions (press plus sign)
Select one transaction via the check box
Press the Move selected e-transactions to user button
Select the employee who will have the selected transactions
Press the Change employee button
The transaction has now been moved to the selected user - and the same process must be performed the next time similar transactions occur.