Automatic submitting can be set up on all expense types in Acubiz. Most often, it does not make sense to have this setup enabled whereas it does make good sense to cash withdrawals on credit cards..
Go to ADMIN => ACCOUNTS => Systemaccounts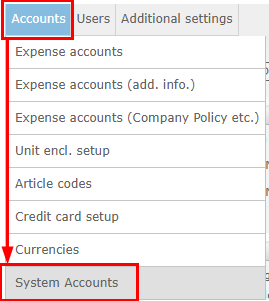 In the list choose "Kontanthævning på kreditkort"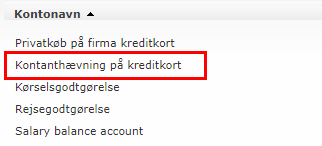 Then activated or deactivated "Submit automatically" as required.

NOTE: Submit automatically will only work if user input is NOT required. The following account setup must be done:
Explanation may not be required
Attachment may not be required
No requirement to indicate number (CPM)
Mandatory dimensions must not be activated

An type code must be entered for automatic posting of matching transactions

(The above is type code for cash withdrawal).
See: Automatic accounting with type codes
These will prevent the automatic ready notification function from working as it will require action on the part of the user. Automatic ready notification is precisely so that the user does not have to do anything.
This feature is most often used in connection with cash withdrawals on credit cards, as the user does not have to do anything ... only the reimbursement of expenses via cash expenses.