Setting up credit card postings
Postings on credit card entries in Acubiz can be set up as needed. For example, if the company changes chart of accounts or accounting system.
Go to ADMIN => ACCOUNTS => CREDIT CARD SETUP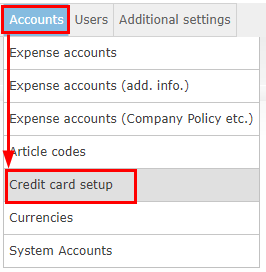 Here is the current setup you have in your Acubiz. There can be several credit card types created or just one. The process is the same for all credit card setups:
Here you can see which credit card setups are available in Acubiz as well as the postings that have been set up.

The image above shows postings for provisions for costs
Click on the credit card name to open the setup and click EDIT

Scroll down to the ACCOUNT SETUP section and enter the accounts you want to post to

More info: