In Acubiz, the final control of transactions is carried out before a bookkeeping file is created for the ERP system - FINANCE CONTROL.
When settled costs come to Finance's control, they have gone through the EMPLOYEE -> APPROVE flow.

When the expenses have been approved by the employee's approver, a financial check of the attachment must be carried out in relation to correct accounting, correct attachment and correct VAT.

Above is a list of costs that are subject to approval by Finans.
Check the expenses
Finance has (usually) the following check of costs:

Are the expenses posted correctly
Can the documentation be read and does it match the expense (correct receipts)
Is dimensioning correct (Department, project, etc.)
The finance department also has the opportunity to make corrections to the cost posting and dimensioning. Once the costs have been checked through, there are 2 options:
Approve the expense
Upon approved verification, the transaction is prepared to be exported to the accounting system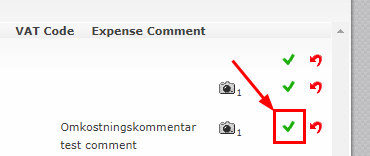 Decline the expense
In the event of rejection, a decision must be made
Should the expense be sent back to either employee or approver
A description of why the expense is rejected