As a rule, the implementation process will cover these stages.
Implementation meeting, including integration, configuration and setup:
Customer test period (POC)
Continuous follow-up and preparation for Go-Live
Internal communication to users around the new system
Go-Live
Implementation Meeting
At the implementation meeting, a dialogue is held on the accounting principles, flow and processes, as well as setting up and configuring Acubiz EMS to handle the company's wishes and needs.
Roles in Acubiz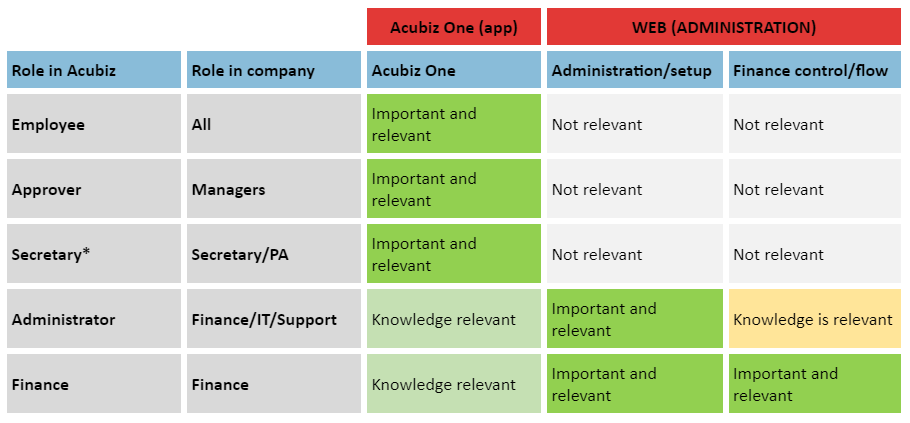 Roles in the implementationphase

The goal for this day is that a (reasonable) clear Acubiz solution is provided. There may be areas that are not fully configured and created, but it is possible to conduct a thorough test of Acubiz before a followup meeting. Specific topics during the implementation meeting:
Approval flow
Who is the user's approver? Is it a direct boss or is there possibly project or department approval? Has the user a procurement limit for what is required for approval. Does the approver have a procurement limit on how much the individual must approve for? The flow in Acubiz is:
EMPLOYEE => APPROVER => FINANCE. Read more about Flow in Acubiz
Dimension setup (posting string)
To get the correct posting string, talk about what dimensions are used in the company. Ex. Department, cost center, project etc. Are there dependencies between the dimensions and which must be visible to the user. Here you have to think a lot about "What can the user decide on". Not all users are account and VAT experts.
Chart of accounts / cost types
In Acubiz, a chart of accounts must be created for users to post their costs. It is important that these are created with the end-user in mind. It must be easy and clear. The name of the cost type must be indicative of the receipt by the user. VAT codes (which the user does not have to see) etc. must be considered. company policies for respectively users and accounts.
See if any. Acubiz proposal for cost types: ExpenseTypes(Account template).xlsx
Acubiz posting principles
There must be talk of how the thoughts from Acubiz's side are about the posting principles. How to be posted in the different situations and at what times. Link to the posting principles>
Payment of receivables
Must employee receivables be registered in a payroll system or paid out via creditor payment in the accounting system.
Customer test period (POC)
After the first configuration meeting, one (or more) usable Acubiz EMS solution (s) is provided. Here, the customer will be able to test for a period based on real data and review the setup that is made from the first implementation meeting.
Nothing is chiseled in granite so changes can be made continuously before Go-Live.
Continuous follow-up and preparation for Go-Live
Details of the daily use of Acubiz, including the ADMIN and FINANS roles. The implementation meeting may have covered the areas, but it is expected that Acubiz has been set up and configured to focus on use and flow and Go-Live.
Internal communication to users
The new Acubiz system must of course be introduced to all relevant employees in the company. There are several methods for this and these can be used in different combinations, for example:
Welcome email Acubiz welcomemail Template
Intranet information (if available)
Internal meetings with introduction to endusers
Workshops
It is the company itself that is responsible for these initiatives via the super users who are trained via the implementation meeting.
After that, Acubiz is ready for Go-Live.