In a company there is scenarios that makes people change approvers. Approvers can be replaced and employees can move departments internally - all of that makes the employee to switch approvers.
A change of approvers can be seen in two ways.
A single employee should have changed approver
An approver must be replaced, and therefore must be changed on multiple employees
The change takes place under ADMIN-> Users
Note that an approver-change does not change the approver on expenses that the employee already has in flow. A change of approver only affects expenses after the change - not those expenses the employee already has.
Change approver on a single employee:
Hvis en enkelt medarbejder skal have skiftet godkender finder man medarbejderen i listen over medarbejder, og åbner medarbejderen stamdata.
Under punktet Relationer er der angivet medarbejderen nuværende godkender.
If a single employee should have changed approver, you find the employee in the list of employees and opens the employee master data.
Under the heading Relationships the present approver is represented.
Press edit
Pres the Select-knappen by the side of the current approver
Choose the new approver from the list
Press Save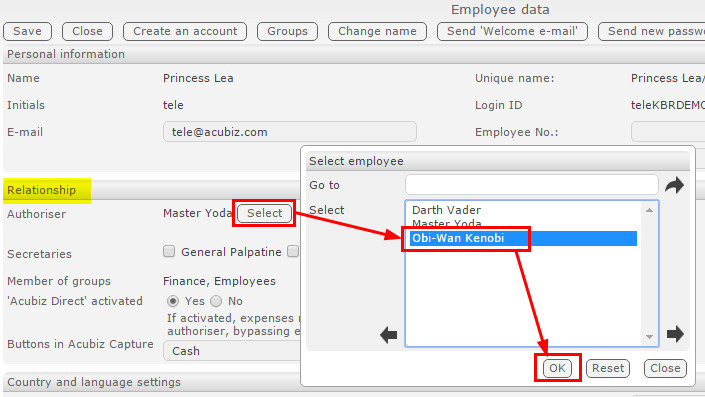 Now the approver on the employee has changed.
This can be a slow affair if it applies to many employees to change their excisting approver to a new approver. Therefore, use the following procedure.
Change approver on multiple employees:
To change approver on multiple employees do the following:
Go to ADMIN --> Users --> Work with approvers
In this view you can select the approver to be replaced, and all employees related get the new approver.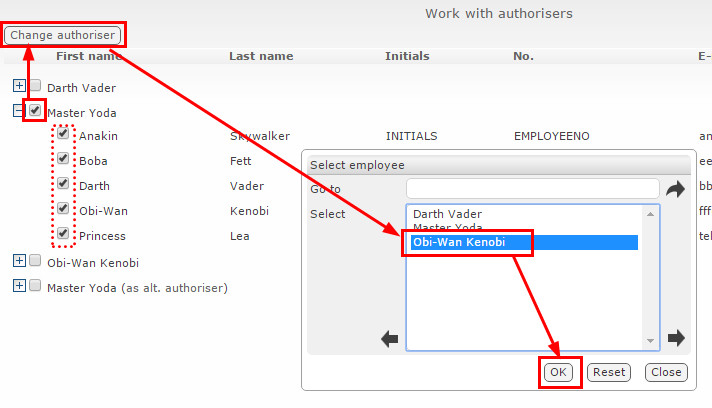 Press OK to replace the approver on all employees by one click.